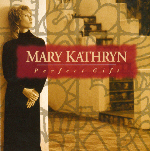 Titus 3:5 "He saved us, not because of righteous things we had done, but because of His mercy. He saved us through the washing of rebirth and renewal by the Holy Spirit. "Mary-Kathryn's mission is to lead people into the presence of the Lord with contemporary music, using God's Word and unique world music sounds to bring encouragement, healing and renewal.
"Every believer holds within their heart the gifts of the Holy Spirit. Each uniquely given as the Father sees fit. I feel strongly that in these days the Church needs to experience God's presence more than ever and that our spiritual gifts might be made known."
The believer and the unbeliever, alike, can experience great pain and hurt in this life. Through loss and longing, there are times when both are left in need of God's compassion and comfort. Mary-Kathryn's music contains an ongoing theme of hope in Christ's return, as well as a reminder of His presence and desire for us to draw near to Him.

"Check out Perfect Gift from new artist Mary-Kathryn. It's really something special. She has developed a fairly unique style within Christian Music circles based around her ethereal vocal approach. The album is extremely well produced…" Thom Granger, CCM Magazine
"…her music is unlike anything that we've had on our program. …this music is new. Unique." Pat Boone, Gospel America National Television Show
Perfect Gift – Songs & Lyrics